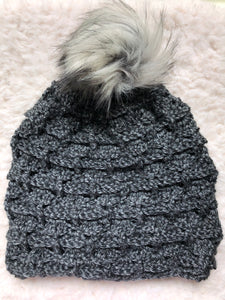 Columbia Slouch
Regular price
$40.00
$0.00
Unit price
per
The Columbia Slouch has a wave-like texture with a slouchy fit to keep you warm.
Beanie Details (Color - Materials - Size):
Gray - 100% Acrylic - Adult One Size (fits head sizes 21"-24").
I do my best to represent the colors accurately, but they may vary between monitors.
Products are handmade in a pet-friendly, smoke-free home.
Columbia Slouch pattern by Tzigns.
Thank you for your support!
Suri Lace 
Fiber Content: 65% Baby Suri Alpaca (22-23 micron), 35% Silk (11 micron)
Ply: 1-ply
Yardage: 437 yards / 50 grams
Weight Category: Lace (Weight 0 - Lace)
Extra Pure Sock
Fiber Content: 100% Extrafine Merino Wool (19.5 micron)
Ply: 4-ply
Yardage (Full Skein): 437 yards / 100 grams
Yardage (Mini Skein): 87 yards / 20 grams
Weight Category: Sock (Weight 1 - Super Fine)
Silk Sock
Fiber Content: 85% Extrafine Merino Wool (19.5 micron), 15% Silk (11 micron)
Ply: 2-ply
Yardage: 492 yards / 100 grams
Weight Category: Sock (Weight 1 - Super Fine)
Smooth Sock
Fiber Content: 40% Silk (11 micron), 30% Extrafine Merino Wool (19.5 micron), 30% Yak (20 micon)
Ply: 4-ply
Yardage: 465 yards / 100 grams
Weight Category: Sock (Weight 1- Super Fine)
Cozy Sock
Fiber Content: 70% Baby Alpaca (22.5 micron), 20% Silk (11 micron), 10% Cashmere (16 micron)
Ply: 3-ply
Yardage: 437 yards / 100 grams
Weight Category: Sock (Weight 1 - Super Fine) - On the lighter side
Pure Sport
Fiber Content: 100% Fine Organic Merino Wool (20.5 micron)
Ply: 3-ply
Yardage: 328 yards / 100 grams
Weight Category: Sport (Weight 2 - Fine)
Plush Sport
Fiber Content: 65% Super Baby Alpaca (19.5 micron), 35% Extrafine Merino Wool (17.5 micron)
Ply: 3-ply
Yardage: 328 yards / 100 grams
Weight Category: Sport (Weight 2 - Fine)
Extra Pure DK
Fiber Content: 100% Extrafine Merino Wool (19.5 micron)
Ply: 4-ply
Yardage: 246 yards / 100 grams
Weight Category: DK (Weight 3 - Light)
Smooth DK
Fiber Content: 40% Silk (11 micron), 30% Extrafine Merino Wool (19.5 micron), 30% Yak (20 micron)
Ply: 4-ply
Yardage: 246 yards / 100 grams
Weight Category: DK (Weight 3 - Light)
Cozy DK
Fiber Content: 70% Baby Alpaca (22.5 micron), 20% Silk (11 micron), 10% Cashmere (16 micron)
Ply: 3-ply
Yardage: 246 yards / 100 grams
Weight Category: DK (Weight 3 - Light) - On the lighter side
Pure Worsted
Fiber Content: 100% Fine Organic Merino Wool (20.5 micron)
Ply: 4-ply
Yardage: 218 yards / 100 grams
Weight Category: Worsted (Weight 4 - Medium)
Extra Pure Aran
Fiber Content: 100% Extrafine Merino Wool (19.5 micron)
Ply: 3-ply
Yardage: 182 yards / 100 grams
Weight Category: Aran (Weight 4 - Medium)
Discontinued Bases
Pure Sock
Fiber Content: 100% Fine Organic Merino Wool (20.5 micron)
Ply: 4-ply
Yardage: 438 yards / 100 grams
Weight Category: Sock (Weight 1 - Super Fine)
Solid Sock
Fiber Content: 80% Extrafine Merino Wool (19 micron), 20% Recycled Nylon
Ply: 4-ply
Yardage (Full Skein): 437 yards / 100 grams
Yardage (Mini Skein): 87 yards / 20 grams
Weight Category: Sock (Weight 1 - Super Fine)
Lush Sock
Fiber Content: 70% Extrafine Merino Wool (19 micron), 20% Royal Alpaca (18-19 micron), 10% Mulberry Silk (10-12 micron)
Ply: 4-ply
Yardage: 437 yards / 100 grams
Weight Category: Sock (Weight 1 - Super Fine)
Pure DK
Fiber Content: 100% Fine Organic Merino Wool (20.5 micron)
Ply: 4-ply
Yardage: 231 yards / 100 grams
Weight Category: DK (Weight 3 - Light)
---