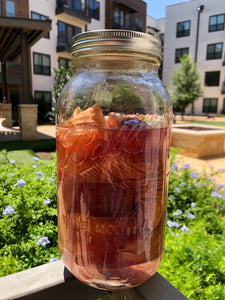 Want to learn the basics of natural dyeing?
I will be teaching a solar dyeing class at Hill Country Weavers in Austin, TX on October 7th @ 11 am!
In this class, I will be teaching an introduction to natural dyes and how to use them to dye yarn with the sun as our heat element. No experience required - this class is very beginner friendly and comes with all materials and equipment needed. We will dye a full 100g skein in class, and you will go home with a mini 20g skein to continue your dyeing adventures!
I taught this sold-out class back in July and it was so fun to see how everyone dyed their yarn. Make sure to sign up now to reserve your spot!
Read more and sign up!