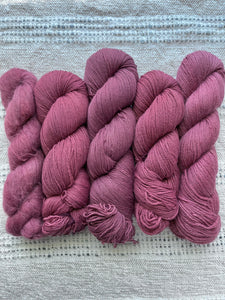 Merlot | Multiple Bases
Regular price
$30.00
$0.00
Unit price
per
Colorway: Merlot
Merlot is a purple leaning red inspired by the glass of merlot that accompanies a warm, hearty fall dinner. The lipstick stain on the glass, indicative of gratitude and fulfillment.
Naturally dyed with madder and logwood.
Pictured bases (L to R): Suri Lace, Extra Pure Sock, Solid Sock, Extra Pure DK, Cozy DK
Base information can be found here.
If you got this colorway in the Shades of Fall pre-order last year, these skeins will be a different dye lot as the recipe has been updated.
For best care and to maximize color longevity, hand wash gently with wool wash or a delicate, pH neutral detergent in cool water sparingly. If you need some wool wash, try Eucalan Delicate Wash! Avoid excessive agitation when washing. Keep out of direct sunlight as much as possible and lay flat to dry. Although I thoroughly wash the skeins, some colors, especially more saturated colors, may bleed in the first couple of washes. 
Due to the nature of hand dyed yarn, no two skeins are exactly the same. I recommend alternating skeins if working with more than one skein of the same color to ensure color consistency.
For ease of use, I recommend winding the yarn into a center-pull cake. I will happily wind your skeins into cakes before shipping them if you would like! Just let me know you would like your skeins wound in the notes section upon checkout. 
I do my best to represent the colors accurately, but they may vary between monitors.
Products are dyed in a pet-friendly, smoke-free home.
Thank you for your support!
Suri Lace 
Fiber Content: 65% Baby Suri Alpaca (22-23 micron), 35% Silk (11 micron)
Ply: 1-ply
Yardage: 437 yards / 50 grams
Weight Category: Lace (Weight 0 - Lace)
Extra Pure Sock
Fiber Content: 100% Extrafine Merino Wool (19.5 micron)
Ply: 4-ply
Yardage (Full Skein): 437 yards / 100 grams
Yardage (Mini Skein): 87 yards / 20 grams
Weight Category: Sock (Weight 1 - Super Fine)
Silk Sock
Fiber Content: 85% Extrafine Merino Wool (19.5 micron), 15% Silk (11 micron)
Ply: 2-ply
Yardage: 492 yards / 100 grams
Weight Category: Sock (Weight 1 - Super Fine)
Smooth Sock
Fiber Content: 40% Silk (11 micron), 30% Extrafine Merino Wool (19.5 micron), 30% Yak (20 micon)
Ply: 4-ply
Yardage: 465 yards / 100 grams
Weight Category: Sock (Weight 1- Super Fine)
Cozy Sock
Fiber Content: 70% Baby Alpaca (22.5 micron), 20% Silk (11 micron), 10% Cashmere (16 micron)
Ply: 3-ply
Yardage: 437 yards / 100 grams
Weight Category: Sock (Weight 1 - Super Fine) - On the lighter side
Pure Sport
Fiber Content: 100% Fine Organic Merino Wool (20.5 micron)
Ply: 3-ply
Yardage: 328 yards / 100 grams
Weight Category: Sport (Weight 2 - Fine)
Plush Sport
Fiber Content: 65% Super Baby Alpaca (19.5 micron), 35% Extrafine Merino Wool (17.5 micron)
Ply: 3-ply
Yardage: 328 yards / 100 grams
Weight Category: Sport (Weight 2 - Fine)
Extra Pure DK
Fiber Content: 100% Extrafine Merino Wool (19.5 micron)
Ply: 4-ply
Yardage: 246 yards / 100 grams
Weight Category: DK (Weight 3 - Light)
Smooth DK
Fiber Content: 40% Silk (11 micron), 30% Extrafine Merino Wool (19.5 micron), 30% Yak (20 micron)
Ply: 4-ply
Yardage: 246 yards / 100 grams
Weight Category: DK (Weight 3 - Light)
Cozy DK
Fiber Content: 70% Baby Alpaca (22.5 micron), 20% Silk (11 micron), 10% Cashmere (16 micron)
Ply: 3-ply
Yardage: 246 yards / 100 grams
Weight Category: DK (Weight 3 - Light) - On the lighter side
Pure Worsted
Fiber Content: 100% Fine Organic Merino Wool (20.5 micron)
Ply: 4-ply
Yardage: 218 yards / 100 grams
Weight Category: Worsted (Weight 4 - Medium)
Extra Pure Aran
Fiber Content: 100% Extrafine Merino Wool (19.5 micron)
Ply: 3-ply
Yardage: 182 yards / 100 grams
Weight Category: Aran (Weight 4 - Medium)
Discontinued Bases
Pure Sock
Fiber Content: 100% Fine Organic Merino Wool (20.5 micron)
Ply: 4-ply
Yardage: 438 yards / 100 grams
Weight Category: Sock (Weight 1 - Super Fine)
Solid Sock
Fiber Content: 80% Extrafine Merino Wool (19 micron), 20% Recycled Nylon
Ply: 4-ply
Yardage (Full Skein): 437 yards / 100 grams
Yardage (Mini Skein): 87 yards / 20 grams
Weight Category: Sock (Weight 1 - Super Fine)
Lush Sock
Fiber Content: 70% Extrafine Merino Wool (19 micron), 20% Royal Alpaca (18-19 micron), 10% Mulberry Silk (10-12 micron)
Ply: 4-ply
Yardage: 437 yards / 100 grams
Weight Category: Sock (Weight 1 - Super Fine)
Pure DK
Fiber Content: 100% Fine Organic Merino Wool (20.5 micron)
Ply: 4-ply
Yardage: 231 yards / 100 grams
Weight Category: DK (Weight 3 - Light)
---